SpaceTech Laser Electronics
SpaceTech develops Laser Electronics for space and laboratory use with outstanding characteristics, enabling laser technology with low noise, high speed, utmost precision.
SpaceTech Laser Electronics – in detail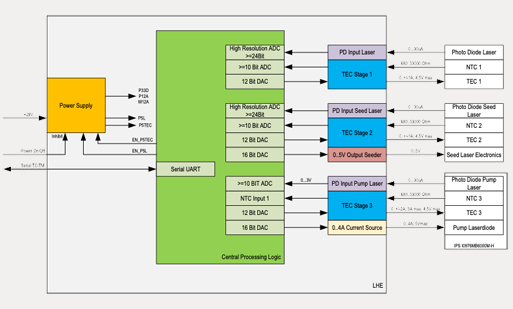 Temperature control loops based on Precision Thermo Electric Coolers (TEC) for seed-laser, pump-laser and photodiode/output power
Low noise modulated Laser Current Sources for seed-laser-power and pump-laser current source.
Acquisition of analogous HK
TM/TC-Interface (UART, SpaceWire or CAN)
DC bias current: ≤ 500 mA
Ultra-low current noise: ≤ 1 nA/√(Hz) @ f > 1 kHz
AC current: ≤ 500 mA
Modulation bandwidth: ≤ 10 MHz
Laser Ranging Interferometer (LRI) for GRACE FO: The LRI consists of a frequency stabilized laser, retroreflector, an optical bench and an electronics board in order to evaluate the interference signal.
Frequency Reference Unit (FRU) for MERLIN: The FRU is composed of a methane cell, several diode lasers, wave meter and the associated control electronics, that stabilize the diode laser emissions and the high-power laser pulse frequency to the methane cell and the wave meter.
High Stability Laser (HSL) for ESAs next generation gravity mission (NGGM): The HSL is a laser source with sufficient power and extremely high frequency stability down to several Hz.
Laser Interferometer Space Antenna (LISA) mission: LISA requires ultra-stable laser sources in power and frequency.