As a competent partner, we are highly motivated to solve even the most complex tasks thanks to the close cooperation of test and simulation services. Due to many years of experience and successful cooperation with our customers and our partners from a wide range of industrial backgrounds, we can provide comprehensive competence.
We can provide you with seminars and training courses for a wide range of subjects. Successfully pursuer your goals with us, in both, the reality of industry and in that of the practical research.
SpaceTech testing and other services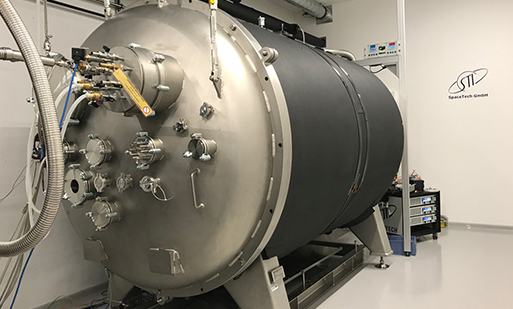 The development of spacecraft systems and subsystems requires high level testing, which simulates the harsh environment of space, e.g., vacuum, extreme temperatures or temperature gradients to state the robustness of the material and design. In addition, thermal-balance tests are performed to verify the thermal model of the systems.
The investigation and reduction of molecular contamination of parts and material is necessary to avoid in-orbit contamination e.g., optical instruments. Volatile particles can be emitted e.g., by CFRP structures. At STI, we offer testing in accordance with ECSS standards in clean room or laboratory clean conditions. We deliver state of the art testing services and holistically support for your testing campaign.
SpaceTech test center
At SpaceTech's test center, we can perform important common as well as extraordinary space simulation testing methods.
Thermal-Vacuum Cycling
Thermal-Balance Test
Bakeouts
Outgassing measurements with TQCM system and RGA
Thermal-Ambient Cycling
Thermal Shock Tests
Thermal Life Cycle Tests
Solar Simulation
At SpaceTech we offer interdisciplinary services for structural dynamics, acoustic and thermal analysis. We implement tests for your most challenging tasks in structural mechanics. The combination of all our resources guarantees that every test is perfectly tailored to your needs.
General vibration measurements: The conception and fulfilment from common to very complex measurements on mechanical structures - also performed under extreme conditions
Operating deflection shapes / operating vibration measurements, time series analysis: The investigation of the mode shapes under transient operating conditions
Micro gravity tests and high-resolution acceleration measurements.
Vibration tests and shock tests
Signal analysis of transient processes
Modal analysis, ground vibration tests: phase resonance and the phase separation method
Static and dynamic load tests
Analysis, interpretation, presentation and documentation of the measured data, contour plots and animations
The high-level qualification, experience, efficiency and the cross-cultural background are our asset, especially for consultancy contracts in international and technically challenging projects.
Project management and coordination
General system / subsystem engineering and related specifications
Procurement engineering
Mechanical engineering, light-weight structures, thermo-stable structures
Electrical system engineering
Software engineering
AOCS engineering
System testing and verification engineering
System and sub-system detailed analysis