SpaceTech discovers a New Way for Space
The SpaceTech spirit is built by the right work-life balance of our employees, a positive working atmosphere and the ideas of our employees, which are incorporated into development and production - STI continuously invests in research and development with the goal of always being at the forefront of space developments. Being an independent German medium size enterprise, we take the freedom to think outside the box and to discover new ways in the space industry.
Our main main goal is the design, development and production of reliable, innovative, high quality and cost-effective space equipment and subsystems for space missions - from Earth observation, navigation and science to new space mega-constellations. We offer smart solutions for satellite platforms as well as for photonic and quantum technology space payloads.
SpaceTech spirit, sustainability, responsibility, quality…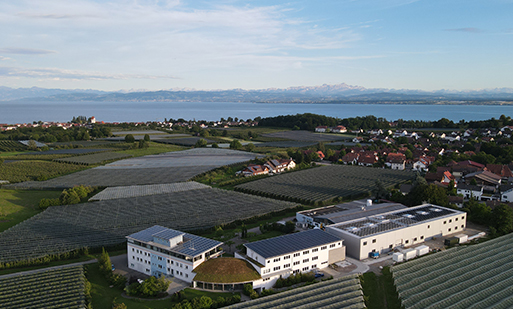 Successful space missions – from launch to planned end-of-life or even longer - live from the engineering that make them possible. Since it was founded in 2004 SpaceTech has grown into an established and internationally recognised space company, but its vision has remained the same: to create smart and reliable products for the space industry. SpaceTech's proven reputation for delivering high-end solutions shows that as a leading global producer of solar arrays and metrological laser instruments we can provide exactly that: products that really work. Currently more than 1000 STI instruments are successfully operating in space.
Our customers include space agencies as well as commercial space companies from across the world. But we still have our feet on the ground. Southern Germany is a hub of high-tech companies where great value is put on high-class workmanship. Our location on Lake Constance is ideally situated to provide us with excellent partners for our projects and products.
We are continuously investing in our people, facilities, and production capabilities. As we are constantly increasing our workforce, we encourage engineers and scientists with appropriate background and passion for space to get in touch with us.
The most important objective in the space sector today is sustainability. Here at SpaceTech we have implemented innovative and cost-effective smart solutions throughout the company.
The use of sustainable resources, the work-life balance of our employees, a positive working environment, and the personal contributions of our staff in the areas of development and production remain our core principles.
Not only do we ensure that our production processes are as sustainable as possible, but also our buildings have been especially designed with energy efficiency in mind. Here at SpaceTech the entire site is supplied by solar and geothermal energy and controlled by an intelligent management system.
Our ongoing investment in research and development means that we can continue to be at the forefront of spaceflight-innovation technology, and we have set high standards for all our products, materials, tools, the level of standardization in production and the automation of production processes.
Thanks to SpaceTech's pioneering developments in the field of series production of space hardware, STI is now a valued supplier for a range of NewSpace satellite constellation projects.
All SpaceTech's products are made with a high level of vertical integration, thanks to our extensive range of know-how from space systems level down to the production and testing of space equipment.
SpaceTech offers a broad spectrum of products: solar arrays, laser optics, QT instruments, payloads, space electronics, space structures and mechanisms as well as small space systems. Our products and solutions have a wide range of applications from Earth observation, navigation and telecommunication right up to space science and manned spaceflight.
It goes without saying that the swift completion of space projects can be challenging. But time is important especially for the NewSpace sector. Over the past few years SpaceTech as a medium-sized business in the space sector has proved time and again that it is able to meet these challenges.
One particular example is the development and production of solar arrays for the mega-constellation OneWeb, which we were able to complete in just nine months, from first contact to first hardware operating in space.
SpaceTech's secret is flat hierarchies, very motivated and focused employees working vertically integrated with the in-house production and test centre, all at our site in Immenstaad.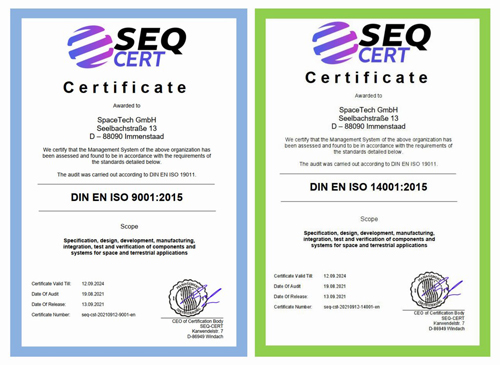 Satisfying the requirements of our customers, ensuring a successful and sustainable business, SpaceTech has implemented a stringent quality management system. The system ensures the commitment to quality of the entire personnel.
We are operating our business in the good tradition of the demanding and appreciated workmanship practices that are widely applied in German industries.
All employees with dedicated responsibility for quality and product assurance as well as all project managers report directly to the executive management.
Quality assurance processes
Our quality assurance processes for space applications are based on the high standards of the European Space Agency's ECSS regulations. For commercial activities quality processes are used which are appropriately derived from these regulations.
SpaceTech's quality assurance system has been evaluated by independent auditors. This has resulted in the award of certification in accordance with the requirements of DIN EN ISO 9001:2015 and DIN EN ISO 14001:2015.

Founded in 2004, SpaceTech developed into an acknowledged system provider for space systems applications, with a solid customer base worldwide. Starting from export projects, mainly for the Asian market, national and European contracts gained more and more importance over the years. Inheriting this great history in designing and developing products for space missions, we are ready to discover new ways for space.
SpaceTech as a provider for ESA satellites
The proven flight heritage from export missions enabled SpaceTech to be selected as provider for highly demanding systems for ESA satellites.
SpaceTech's growth
Originally consisting of just two people, the two founders Bernhard Doll and Jost Munder, SpaceTech quickly acquired more personal and has seen a steady growth ever since. Parallel to the increase of personal, SpaceTech contracts and facilities have grown. SpaceTech is one of the largest German SME active in the space business.
STI's passion for space
Our engineers and scientists are professionals in the space business with a deep passion for space. Many of them have great experience in the design, development, test and operation of satellite systems and related equipment. Over many years they have successfully contributed to national and European programs like CHAMP, GRACE, ENVISAT, TerraSAR, several Copernicus Sentinels, Earth explorers and ESA science missions as well as to space station and Ariane launcher developments. The range of skills includes systems, mechanical and thermal, electrical, optical and software engineering.
In the past years STI has grown and developed into a company with comprehensive system capabilities and excellent competences.
System management
System engineering
System and equipment design
Equipment procurement
Assembly and test
Commissioning
Based on this wide scope of capabilities STI is in the position to participate in many space programs with important contributions on all levels of the value chain.
SpaceTech ownership
SpaceTech is independently owned, and our employees are deeply passionate about space.
SpaceTech's executive board consists of Wolfgang Pitz, Bernhard Doll and Frank Gilles. All of them have acquired great experience in the space business in their previous positions as senior managers and system engineers at Dornier Satellite Systems and later at Astrium and Airbus DS.
SpaceTech company structure
SpaceTech believes in and lives flat hierarchies. The structure of the company is based on a matrix organization, centered on product groups in which the individual projects are allocated. Disciplinary groups provide the project workforce in a flexible and efficient way. This supports efficient internal communication, quick decision-making processes, simple working interfaces and a fast and flexible response to customer requirements and expectations.
With our location in Immenstaad, Germany, on Lake Constance, SpaceTech is ideally situated in the centre of a high-tech area, together with several other well-known space companies.
SpaceTech subsidiaries
CarboSpaceTech GmbH
Being a SpaceTech subsidiary, CarboSpaceTech (CST) designs and manufactures innovative carbon parts. Their product portfolio ranges from custom-tailored, winded carbon parts for the space industry to solar panel substrate production with automated laydown of carbon fibre. CST also develops important test equipment for space applications, such as the ZeroG robot, making use of the outstanding characteristics of their carbon materials. STI share 66%.

neonsee GmbH
SpaceTech was able to incorporate neonsee in 2019. neonsee designs high-end solar simulation systems, using the innovative and unique single light source technology. This technology offers steady-state solar simulation, high beam collimation, spatial uniformity, temporal stability and full irradiance control - characteristics that are mandatory for testing of equipment and materials used in products for space missions, such as thermal balance testing. STI share 62%.